The program creates an animation (Screen Saver, Greeting, .GIF or .AVI files) from your own images. Animated Screen lets you combine an unlimited number of words, sounds (in .WAV, .RMI and .MID formats,) and pictures (in .BMP, .GIF, .AVI or .JPG formats)


When working with words, Animated Screen lets you determine the font, text color, and background color; you can also add special effects like shadows and extrusion.
When working with pictures, you can place multiple images on each screen, and determine how the images come and go, using both fixed and random placement as well as special effects such as bouncing images off the screen's borders, dropping images like raindrops, or creating fascinating star-and- meteor effects.
Pictures are combined into sprites. The Sprite can consist of several pictures, or text blocks in the form of pictures. When the Sprite consists of several pictures, those images will be reproduced sequentially during the animation:



Each Sprite can be configured individually: you can program the position, direction of movement, motion speed, disappearance and re-appearance etc.



The animation can also include several sound tracks (sound files), which are individually programmable as well - you can assign a certain sound file to the each step of the animation you create. Use your microphone to record your speech.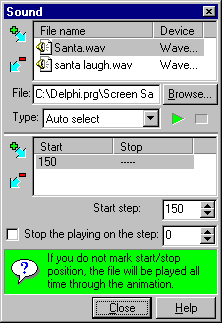 Animation Wizard allows you to quickly create a screen saver or greeting from predefined animations.
The program keeps all data in one file. When you create a Screen Saver or a Greeting, the image, sound tracks and information on the object's motion are all compressed into one file, which is attached to the executing program and written to the disk under the assigned name.
The ready Screen Saver has to be copied to the Windows system directory in order to be accessed from the Windows Control Panel (Display icon). You can create a special distribution package with your Screen Saver, so it will be automatically unpacked to the Windows system directory.


For your convenience and to facilitate sending via Internet, Animated Screen can compress the final Screen Saver up to 10 times and make the resulting file no bigger than 300Kb.


The program does not have to be installed on other systems in order for other people to view the animation you create.



You can distribute your own shareware screensavers.
Customize a shareware Reminder that appears on each unregistered screensaver and customize a Register dialog box for entering reg. name and reg. key for your screensaver. When someone purchases your screensaver, you send them reg. name and reg. key and they put it to screensaver to remove the shareware reminder.
System Requirements:
- Intel® Pentium® II/200 MHz or compatible
- Microsoft® Windows® 95, 98, ME, NT, 2000, or XP
- 32MB RAM (64 MB recommended)
- 20 MB hard disk space
- Color monitor
- Mouse or other pointing device